ABOUT MARK
Mark Healey is a professional waterman, big-wave surfer, award-winning spear-fisherman, free-diver, photographer, filmmaker, and part-time Hollywood stuntman. Mark relies on the durability and precision of his Bremont Waterman whilst navigating the oceans and being subjected to their tough conditions. Despite his unruly itinerary, Healey's made no shortage of major achievements in his career as a self-described waterman. Earning his first surf sponsorship at age 13 and going pro at 17, the 31-year-old has racked up victories at big-wave events like Todos Santos and in 2008 nabbed the Spearfishing World Cup. Still, Healey half-jokes, my biggest accomplishment so far is probably just staying alive.
A CONNECTION WITH WILDERNESS
While he's encountered his share of close calls from shark attacks to blackouts, Healey thrives on the elements of danger inherent to his work. Anytime you step into the ocean, you're in an environment that's completely uncontrolled by humans, he says. Everyone needs to connect with that sort of wilderness in some way, especially in a time when there's so much noise and distraction in our daily lives. To that end, one of Healey's main ambitions is to use film, photography, and hands-on education to deepen the broader culture's relationship with the ocean. I absolutely believe that people will only protect something if they value it, and it's my life's mission to inspire others to value the ocean the way I do, says Healey, who once aspired to be a marine biologist and absorbed himself in malacology as a preteen.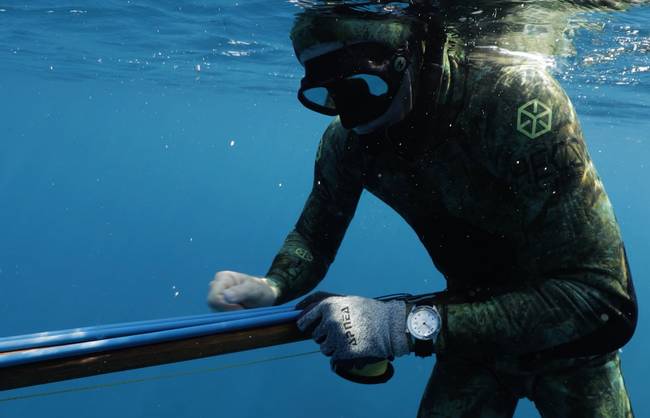 "The ocean's just endlessly fascinating to me, how it's constantly changing and you never know what to expect. I could live for a thousand years, and it would still never get old."
The Bremont Q&A
Discipline
Big Wave surfing, Freediving, Spearfishing
Friends call me
Donkeyshow
Born
Dec 2, 1981
Currently lives
Haleiwa, Hawaii
Special talent
Shark tagging
Philosophy of life
Happiness is a decision. Don't sweat the things that are out of your control
Cup of tea
Guayaki Yerba Maté
My Bremont
The Bremont Waterman
Most interesting place I've taken my Bremont
In the gills of a Yellowfin Tuna