This year's Wimbledon event saw Australian professional tennis player and Bremont Ambassador Matt Ebden proudly lift the Gentleman's Doubles trophy alongside his playing partner Max Purcell. The epic 4 hour and 11 minute match saw Matt and Max defeat Croatia's defending champions Nikola Mektic and Mate Pavic in a 5 set final, in a true test of physical endurance and mental perseverance. Following the celebrations, Bremont caught up with Matt to get the full de-brief on what it's like to win at this prestigious and quintessentially British event and his love for mechanical watches.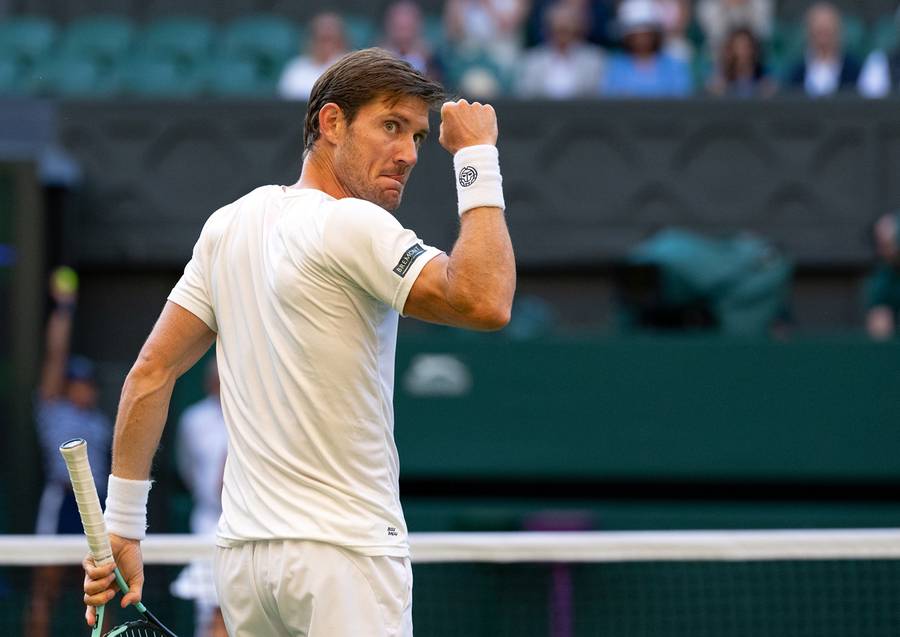 How does it feel to be a Wimbledon champion?
It is hard to put into words. I've won some big titles and had many big moments in my career and achieved big goals, but Wimbledon Centre Court has something very weird and magical about it. I can't really describe it other than a kind of aura, magic, fate and destiny that feels like it plays out. It's unlike anything I've ever felt in the most remarkable way. I can only equate it a bit to what I heard John McEnroe say last week during the Centenary celebrations, "when I first won Wimbledon I feel like I could fly right out of the stadium".
How much training do you go through in preparation for an event like Wimbledon?
An entire lifetime really. Mastering the sport of tennis and becoming a grand slam winning athlete and everything that comes with it, takes many years and in many different areas. After the French Open in Paris on clay, I spent 3 weeks at grass court lead in tournaments preparing and honing my skills and physical conditioning in order to be ready to perform at my best for what turned out to be 11 matches and 41 sets of tennis over 10 days of play at Wimbledon.
What is so special about competing in Britain and at such a prestigious event?
It feels like winning Wimbledon is the pinnacle achievement in life. Not just in tennis, but all sport. The hallowed turf, the history, the tradition, the royal connection, the past champions, and the great myths and legends and stories. To be a tiny part of that history and a piece of that puzzle, is hard to comprehend and a surreal feeling.
That final looked like a true test of endurance with many ups and downs throughout the match. How did you both persevere when it felt like your back was on the ropes?
Yes it definitely was. And for me the entire championship was. Making it to the final of the mixed doubles and the doubles events meant I played 11 matches in 10 days, often playing 2 matches in one day, often playing 8 sets in one day and sometimes spending 6 hours a day on the match court, hard to believe looking back at it.
My top tips are definitely having very good hydration, a well balanced and nutritious diet with enough energy and sustenance and of course enough sleep. The other top tip is working with world class physios and massage therapists like we do on the ATP Tour and at Wimbledon. Keeping our bodies loose, flexible and strong, and recovering very well after long matches. Lastly, I would say the use of ice baths, after long days and many hours on court, I will go in the ice bath to cool my core temperature down and reduce inflammation in my body to allow it to heal fast and freshen up ready for the next match.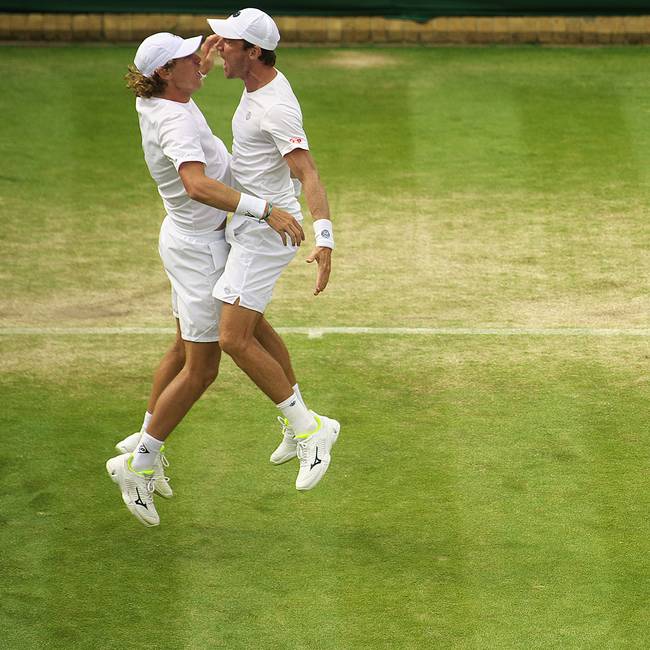 How did you and Max celebrate the win and how does this rank in your top career moments?
We celebrated firstly on court, falling to our backs on the beautiful grass, not out of planning but of sheer disbelief and happiness. Then of course, with the trophies and with the crowd and the trophy walk around centre court. Then out to the front doors where all the crowd and public wait to greet and cheer for you. Then eventually with our teams and family and friends back inside after media and press commitments.
We then felt obliged to head up to Wimbledon village to the Dog & Fox and celebrate with the people of Wimbledon! Many of them were in at the match supporting us so it made it extra special to go up and have some champagne and celebrate and take photos with everyone and have some fun.
I would say this is the pinnacle so far. I have won a Grand Slam before at the Australian Open, and again reached the final there earlier this year. However, winning Wimbledon it seems is one of the pinnacles of world sport. In tennis, it seems to be the oldest, most historic grand slam we have, and one that is incredibly special to me. I love playing on grass and my parents first brought me to Wimbledon as a kid to come watch when I was 8 years old.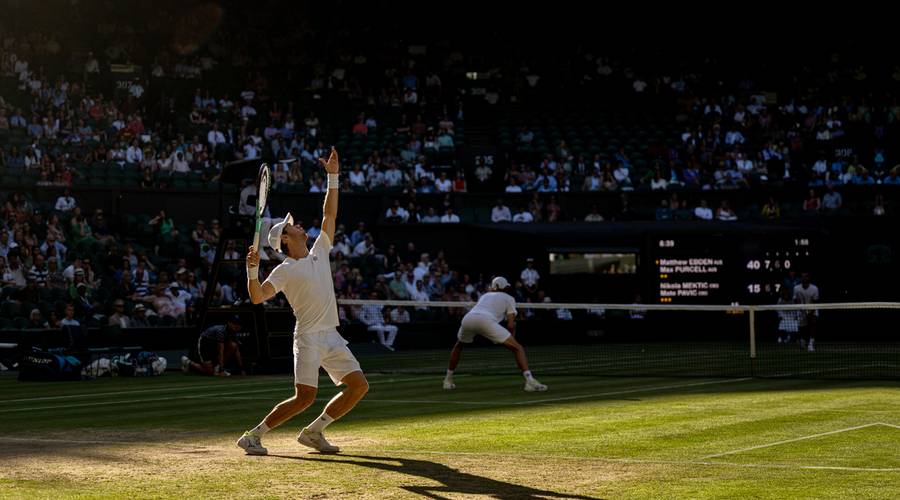 You're known for being a big watch fan. What is it that attracts you to mechanical watches in particular?
My watch journey began as a young kid. My father came back from a holiday to the US and fished out this special watch for me from a display area that they could only access with a fishing rod. I was hooked. The story of it, and the fact he just had to get 'that one' for me left an indelible imprint. Then as an adult my sister bought me a nice watch for my 18th birthday which I wore at my wedding some 7 years later.
Early on in my tennis career with a life of travel and sport came my further discovery of the watch industry and mechanical watches. It just seemed like the perfect fit – tennis and watches.
The clocks around the courts, travel, timekeeping during matches, the history and precision, the connections are all there. For me mechanical watches are much like life and even our minds. All the cogs and wheels and pieces must work together perfectly for it to keep perfect time. If one small part breaks or is out of balance, then the whole thing is thrown off, much like life. I also share such an affinity with time as I believe the only true thing in life that is limited is time, and therefore, I value it the most amongst anything.
Which Bremont(s) do you wear and why?
I currently wear 2 different Bremont's on rotation.
Firstly, the Broadsword Bronze with sotek dial on a variety of straps. The Broadsword design and construction for me is perfect, and I love the use and aesthetic of the small seconds on the dial. When I first visited the Bremont Boutique in New York on Madison Avenue, I was struck by the quality of the incredible coating applied to the bronze on the Broadsword. I was instantly taken back. At a perfect 40mm, with stunning design execution and a flawless case, along with the idea that the bronze can patina and age graciously and provide many different looks, I was definitely hooked and still am. I absolutely love wearing it, and never want to take it off.
Secondly, the Supermarine S302 in steel currently on a steel bracelet but also with various strap options that look impeccable. The S302 is a 'strap monster' because of the many hints of colour on the dial and bezel. Peachy pops of colour resembling patina, around the indices and on the bezel match so well with many straps and clothing options, as well as the burnt orange GMT hand and touches of red on the dial and seconds hand. All this on a beautiful matte black dial means so many colours complement it. I love the fact it is a 300m dive watch which can handle basically anything and the toughest conditions on earth as it is Tested Beyond Endurance. Also, it has a GMT hand (I am always travelling and changing time zones) for when I need to keep track of home time, makes it an absolute winner for me. Everyday when I wake up I cannot wait to put on this watch and literally get so much joy out of wearing it. Similarly at night I wear it right until I fall asleep as it wears so well on the wrist and I feel lost without it on my wrist.
How does it feel to join Bremont's line up of Ambassadors?
As a watch aficionado and lover, naturally I was very excited to partner with Bremont to share their story and beautiful watches worldwide. Being a tennis player means we are in one of the most widespread and widely travelled sports covering the globe, which gives me the chance to test the watches in a variety of different ways. Having a grandfather who was in the British Navy definitely gave me a great connection to the brand as Bremont has the seal of approval from Her Majesty's Armed Forces. I also really wanted to bring Bremont into the tennis world and let many of my friends, fans and followers around the world know about Bremont watches and their story.
Now, having won Wimbledon in England, with a British watch on my wrist, I couldn't think of a more perfect fit.