With an unparalleled contribution to engineering and aviation, Rolls-Royce has now broken two world records with the all-electric 'Spirit of Innovation', officially the world's fastest all-electric aircraft. At 15.45 (GMT) on 16 November 2021, the aircraft reached a top speed of 555.9 km/h (345.4 mph) over 3 kilometres, smashing the existing record by 213.04 km/h (132mph). In further runs at the UK Ministry of Defence's Boscombe Down experimental aircraft testing site, the aircraft achieved 532.1km/h (330 mph) over 15 kilometres – 292.8km/h (182 mph) faster than the previous record. Both records have been officially verified by the Fédération Aéronautique Internationale (FAI), the World Air Sports Federation that controls and certifies world aeronautical and astronautical records. During its record-breaking runs, the aircraft, which is part of the UK Government-backed ACCEL or 'Accelerating the Electrification of Flight' project, also clocked up a maximum top speed of 623km/h (387.4mph) making it the world's fastest all-electric vehicle.
Bremont teamed up with Rolls-Royce to become the Official Timing Partner for the record attempt. Bremont was involved in the design of the plane's cockpit which featured a Bremont stopwatch, and the company machined canopy release parts from its Henley-on-Thames manufacturing facility. To celebrate the partnership Bremont also released a mechanical chronometer called the 'Bremont ionBird', which the test pilots wore for the development and record-breaking flights.

Rolls-Royce has an incredible history of flying speed record attempts and breaking records, dating back to the Schneider Trophies of the early 1930's. Bremont has previously paid homage to these incredible achievements with its Supermarine range of diving watches. The speed achieved by test pilot and Rolls-Royce Director of Flight Operations Phill O'Dell in the 'Spirit of Innovation' was more than 213.04 km/h (132 mph) faster than the previous record set by the Siemens eAircraft powered Extra 330 LE Aerobatic aircraft in 2017. Never before in the history of the World Air Sports Federation (FAI) record attempts has there been such a significant increase in speed over such a short timeframe, highlighting the rapid pace at which the electrification of aerospace is advancing.
Phill O'Dell said: "Breaking the world-record for all-electric flight is a momentous occasion. This is the highlight of my career and is an incredible achievement for the whole team. The opportunity to be at the forefront of another pioneering chapter of Rolls-Royce's story, as we look to deliver the future of aviation, is what dreams are made of."
Becoming Official Timing Partner for this all-electric speed record attempt marked a genuine partnership between two global companies with British roots dedicated to precision engineering. Bremont Co-Founder Nick English comments: "We are so proud to have been part of this project and would like to extend our heartfelt congratulations to the team at Rolls-Royce who have made this possible. The Spirit of Innovation is a revolutionary aircraft that not only shows the potential for electric flight, undoubtedly signalling a much greener future for aerospace, but it equally demonstrates the talent we have in this country for innovation and engineering, something we champion at Bremont. I sincerely hope and anticipate this achievement will inspire a new generation of engineers."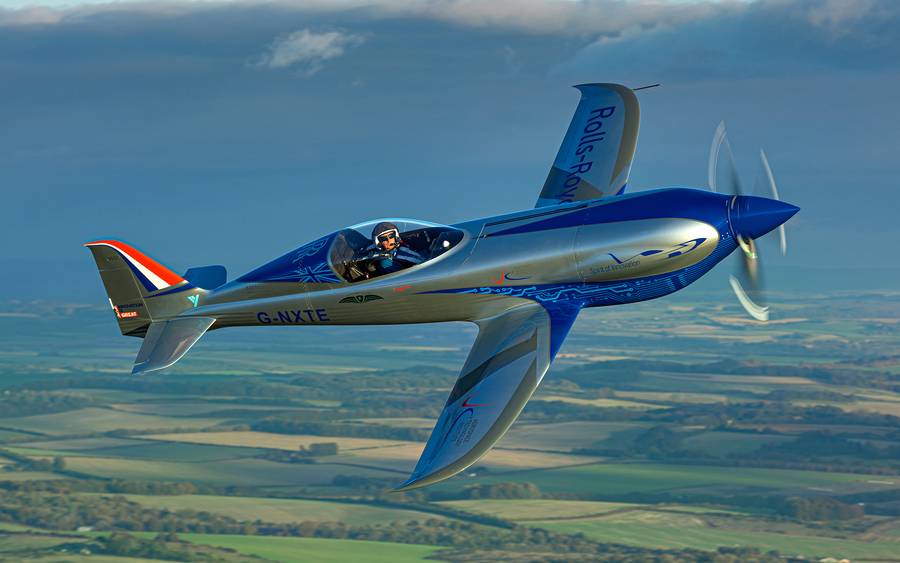 Flight has inspired and benefited us all. The question today is how aviation meets the demands of a growing, more connected society with sustainable, net zero carbon power. A race for change has started and Rolls-Royce is pioneering this next generation, and indeed revolution, in aviation.
Warren East, CEO, Rolls-Royce, said: "Achieving the all-electric world-speed record is a fantastic achievement for the ACCEL team and Rolls-Royce. I would like to thank our partners and especially aviation start-up Electroflight, for their collaboration in achieving this pioneering breakthrough. The advanced battery and propulsion technology developed for this programme has exciting applications for the Advanced Air Mobility market. This is another milestone that will help make 'jet zero' a reality and supports our ambitions to deliver the technology breakthroughs society needs to decarbonise transport across air, land and sea."
The aircraft was propelled on its record breaking runs by 400kW (500+hp) electric powertrain and the most power-dense propulsion battery pack ever assembled in aerospace. Rolls-Royce's involvement in the ACCEL project is just one of the ways in which the firm is looking to make aviation more sustainable. Certainly, adapting its pioneering technology so it can be applied across the wider aerospace industry is the next step in moving towards a more sustainable way to fly. 
There is likely a third record for the 'Spirit of Innovation' for the fastest time to climb to 3000 metres in a time of 202 seconds, breaking the current record by 60 seconds. This record is still going through the verification process.
With a proud tradition in aviation inspired watches it seems natural that Bremont should be involved in this pioneering project to make air travel more sustainable in the future with a goal of net zero carbon emissions by 2050. Discover some of Bremont's top pilot's watches including the ionBird, produced in partnership with Rolls-Royce.
 
THE IONBIRD COLLECTION