Bremont dive watches are renowned for their durability and functionality and have become an indispensable tool for both professional divers and watch enthusiasts alike. One key feature that sets these timepieces apart is their ability to glow in the dark, ensuring optimal visibility in the poorest of lighting conditions. In this article, we explore the science behind this captivating yet functional technology that is superbly demonstrated throughout Bremont's collection of luxury dive watches.
Super-LumiNova® of the Supermarine Chrono Jet
WHAT IS LUMINESCENCE MADE OF AND HOW DOES IT WORK?
Luminescence, the emission of light without significant heat, lies at the heart of a dive watches' ability to glow in the dark. This phenomenon occurs when certain materials absorb and store energy from external sources, then release it as visible light in low-light conditions. Dive watches commonly employ two types of luminescent materials: Super-LumiNova® and tritium.
Super-LumiNova® of the S2000
WHAT IS SUPER-LUMINOVA®?
Super-LumiNova® is a photoluminescent material that absorbs and stores light energy, subsequently emitting it as a glow. This compound is strategically applied to the hands, hour markers, and bezels of dive watches. Bremont's Supermarine collection employ up to as many as 15 to 20 coats of Super-LumiNova®, providing a vibrant and long-lasting luminescent effect that stands the test of time.
Close up of the dial of the S500/BL
WHAT IS TRITIUM?
In contrast, tritium gas tubes utilize a radioactive isotope of hydrogen to create a self-powered luminescent effect. Tritium-filled tubes are placed on the watch's dial and hands, continuously emitting a soft glow without requiring exposure to external light sources. While Bremont does not currently utilize tritium gas tubes in their Supermarine collection, they have played a significant role in the evolution of luminescent technology within the watch industry.
The journey of luminescent technology in dive watches spans decades, with continuous advancements pushing the boundaries of visibility in low-light conditions. Early dive watches employed radioactive radium-based luminescent material, which proved hazardous due to its toxicity. The subsequent introduction of non-radioactive compounds, like Super-LumiNova®, offered a safer and brighter alternative.
Bremont's commitment to innovation is exemplified in their Supermarine collection. By harnessing cutting-edge luminescent materials, Bremont has elevated the legibility of their dive watches to new heights. The Supermarine models incorporate the latest Super-LumiNova® advancements, ensuring an unmistakable and enduring glow that captivates even the most demanding of explorers.
Bremont's Supermarine collection showcases the meticulous attention to detail that goes into applying luminescent materials. The vibrant luminescence of Super-LumiNova® illuminates the rotating bezels, allowing for quick and accurate time referencing, while the bezel's luminescent markers enable precise measurement of elapsed time during dives. You can read about what to look for in your next dive watch and why they have rotating bezels in our previous articles.
Supermarine S301, S501 & S2000
HOW TO MAINTAIN LUMINESCENCE IN A DIVE WATCH?
To maintain the luminescent properties of your dive watch, it is essential to follow a few simple guidelines. Avoid prolonged exposure to direct sunlight, as it can gradually diminish the effect. Additionally, periodic servicing by authorized professionals ensures the optimal functioning of luminescent materials, guaranteeing their longevity. Bremont's dedication to craftsmanship extends to their Supermarine collection and following their maintenance recommendations will help preserve the luminosity of your timepiece for years to come.
The captivating luminescent feature of dive watches has revolutionized the way divers and watch enthusiasts perceive time in the depths. We invite you to discover the allure of Bremont's Supermarine collection by browsing the exceptional range of luxury dive watches online or experiencing them at one of our stores.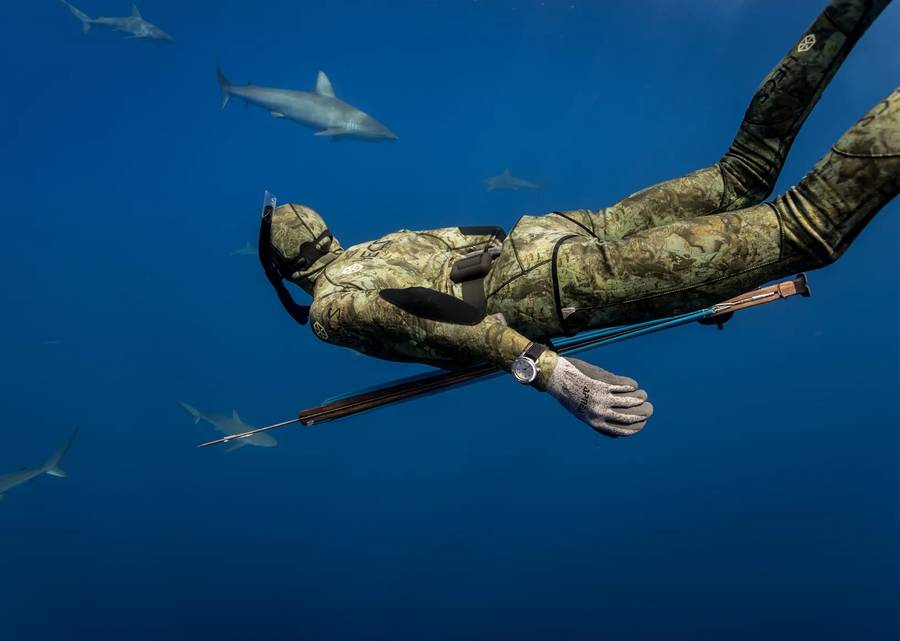 Over the years, Bremont has developed its Supermarine diving watch collection to the exacting specifications required for professional divers and military personnel, having worked with the likes of the Royal Navy Clearance Divers, Special Forces Units, North Sea Deep Sea Divers and the Royal Marines. Bremont has also worked closely with open water swimmers, free divers, scuba divers and professional sailing teams to ensure our watches can be relied on in any nautical environment. As such, our watches have achieved an enviable pedigree in this field and we are incredibly proud to have created a product which is relied on by the best.